2012-05-01 07:27:58
City Events Website
In case you didn't see my Facebook post (
http://on.fb.me/JyZ5Pj
):

I recently became frustrated while reading the May issue of Johnstown Magazine (being frustrated with the magazine itself is another issue, this is different). While perusing the articles I found many instances of people speaking about concerts, shows, etc. that have happened in and around Johnstown during the past couple of months. My first reaction was that I had no idea about any of these. My second reaction was that of anger because I would have liked to have attended many of those events.
Why is it so hard to advertise properly? I don't know the answer to that question, but what I do know is that Johnstown has a problem with too many "event posting" websites. The newspaper, the local news station, dozens of personally created websites with the sole purpose of advertising local events. If you're trying to promote an event where do you list?
The easy answer is to list on all of them, right? That's stupid. No one wants to waste their time posting the same thing 20 times. While it's a pain for the promoter, it's an even bigger pain for the consumer. How does one hear about local events? As it stands right now, the only way to stay current on local entertainment is to:
Read the Tribune
Read OurTown
Read that other Alleghenies paper
Watch the local news on TV
Read the Tribune's website
Read the local news website
Read literally 6+ websites that list local events
Are you kidding me?
Johnstown needs
one
website. Scratch that... Every city needs
one
website where anyone can come to post and read about local events. But it will be difficult. To get the necessary adoption this site needs to be amazing. The UI needs to be beautiful and the UX needs to be flawless. If it's not people won't use it.
Here is the sketch of my current vision.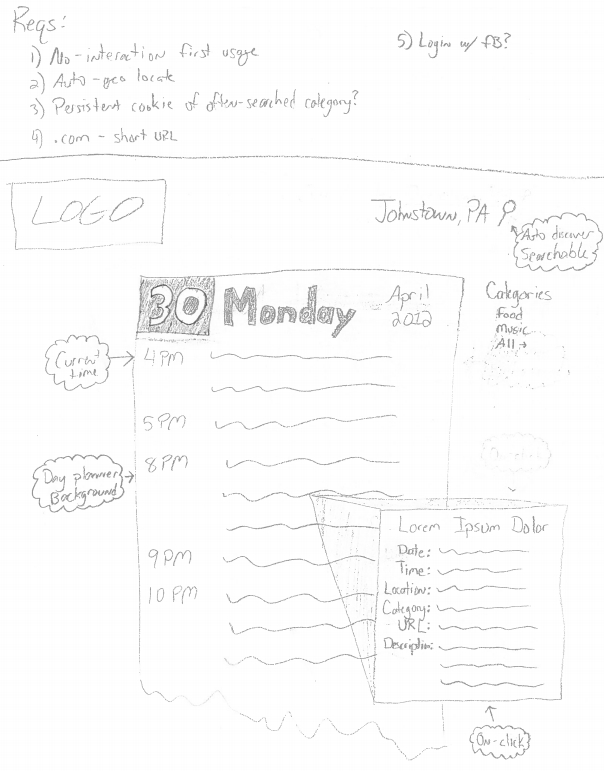 Thoughts?
Back
5 comments
Post a comment!